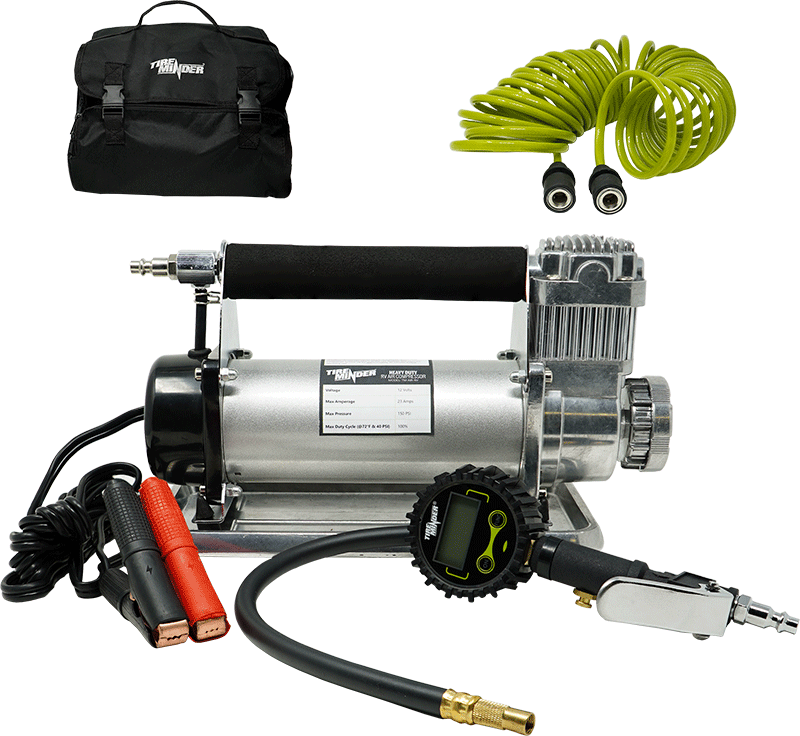 TireMinder RV AIR Compressor
---
Description
The TireMinder RV AIR™ Compressor features an extremely high air flow rate, while maintaining a quiet sound rating of less than 60 decibels (about as loud as a normal conversation), at a weight of only 14lbs. You no longer need to stop at a dedicated shop to top off your tires. With the TireMinder RV AIR you can fill a flat Class A Motorhome tire from flat to 100 PSI in less than 12 minutes. Topping off can be achieved in less than a minute per tire, typically in only a couple seconds. This system also comes with a highly accurate, ±1 PSI digital tire gauge. Designed specifically for RVs, this tire gauge allows you to accurately fill each of your tires to the exact specified tire pressure. If you want to fill your tires quickly and accurately, saving on time and increasing your miles per gallon, the TireMinder RV AIR Compressor is made is for you.
Highlights
Enjoy a fast 1.80 CFM air flow for up to 1 hour runtime, at less than 60 decibels, and includes automatic overheating shut-off.
Top off your RV tires in seconds; Fill a 22.5" Class A tire from flat to 100 PSI in less than 12 minutes.
RV AIR Compressor includes high accuracy digital inflator gauge, 60 FT of hybrid air hose, 8 FT power cable, and a high-quality carrying case.
Designed to provide a quick and easy way to fill your RV tires quickly, reducing the time you spend at a campsite, on the side of the road, or needing to find a fill up station.
---
Find a TireMinder Dealer Near You
Buy Online Now
Are you an online dealer and want to be included on the above list? Please contact us.
---
Contact TireMinder
Have a question? Contact a TireMinder expert today!
Phone: (772) 463-6522
Email: info@MinderResearch.com